Phuket Restaurant Promotions:
Many different types of restaurant promotions, such as themed dinners, happy hour and live entertainment.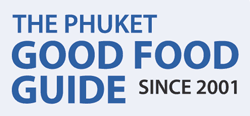 Digital version
Search Where to Eat Phuket
Choices!
It doesn't matter how many Phuket restaurant options there are, if you don't know about them, what's the point? If you've no way to compare them, how can you decide?
Yet dining out in Phuket — whether for a special occasion at a restaurant brimming with atmosphere, or for a casual local Thai-style lunch – is probably the most important, and potentially one of the most memorable, elements of your visit to the tropical island of Read more ...
Top 10 most viewed
restaurant on our website
See 5 more restaurants...
Phuket Restaurant:
PICK OF THE MONTH
Editor's choice:
PHUKET RESTAURANT REVIEWS
@ Kata
The Boathouse is a legendary boutique hotel and restaurant, one of the first in Phuket and now the beneficiary of a most imaginative refurbishment. Sip your cocktail in a bar area with blue and white nautical motifs, then dine al fresco amid venerable trees and wooden decking in an atmosphere of rustic grace and charm. ...
Read more ...
Phuket Restaurant recipe:
by Chef Wuttisak Wuttiamaporn
Remove bones from fish fillets and put skin side down in a deep dish. Scatter with onion, lime leaves, bay leaves and orange zest.
Read more ...