Many different types of restaurant promotions, such as themed dinners, happy hour and live entertainment.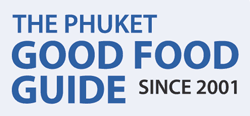 Search Where to Eat Phuket
Choices!
It doesn't matter how many Phuket restaurant options there are, if you don't know about them, what's the point? If you've no way to compare them, how can you decide?
Yet dining out in Phuket — whether for a special occasion at a restaurant brimming with atmosphere, or for a casual local Thai-style lunch – is probably the most important, and potentially one of the most memorable, elements of your visit to the tropical island of Read more ...
Top 10 most viewed
restaurant on our website
See 6 more restaurants...
Editor's choice:
Phuket restaurant reviews
@ Banana Walk, Patong Beach Road
Described as the "leading chain of wine shops and wine-themed restaurants in Southeast Asia", Wine Connection now boasts more than twenty bistros. There are no fewer than five in Phuket. Their runaway success? Testament to the vision of their French founder. His formula? Open an up-market wine retail outlet and combine it with a restaurant ...
Read more ...
Phuket restaurant recipe:
by Chef Thanuphet
Boil 1 liter of water, add all ingredients except wine. Once the first liter reduced by half, add another half liter of boiling water and simmer.
Read more ...