Many different types of restaurant promotions, such as themed dinners, happy hour and live entertainment.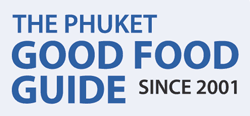 Search Where to Eat Phuket
Choices!
It doesn't matter how many Phuket restaurant options there are, if you don't know about them, what's the point? If you've no way to compare them, how can you decide?
Yet dining out in Phuket — whether for a special occasion at a restaurant brimming with atmosphere, or for a casual local Thai-style lunch – is probably the most important, and potentially one of the most memorable, elements of your visit to the tropical island of Read more ...
Top 10 most viewed
restaurant on our website
See 6 more restaurants...
Editor's choice:
Phuket restaurant reviews
@ Panwa Cape
Imagine a beach-side restaurant with spectacular ocean views, attentive staff and above all, haute cuisine food at reasonable prices. Difficult to envisage? Panwa Boutique Beach Resort ticks all these boxes. ...
Read more ...
Phuket restaurant recipe:
by Chef Rieno
Remove all the nerves from the tenderloin, leave a little bit of fat and cut into small cubes.
Read more ...