Many different types of restaurant promotions, such as themed dinners, happy hour and live entertainment.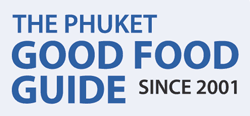 Search Where to Eat Phuket
Phuket Restaurant:

News
Stay up to date on what's happening with 'Where to Eat in Phuket'. See more news
Choices!
It doesn't matter how many Phuket restaurant options there are, if you don't know about them, what's the point? If you've no way to compare them, how can you decide?
Yet dining out in Phuket — whether for a special occasion at a restaurant brimming with atmosphere, or for a casual local Thai-style lunch – is probably the most important, and potentially one of the most memorable, elements of your visit to the tropical island of Read more ...
Top 5 most viewed
restaurant on our website
Mid Island / Phuket North
See more restaurants...

DINING by

Read more 'Dining News' on The Phuket News
Editor's choice:
Phuket restaurant reviews
@ Restaurant in Surin
A casual, funky "Itameshi" (contemporary Japanese-Italian) dining. Homemade noodles and pasta, raw-bar and Robatayki...
Read more ...
Phuket restaurant recipe:
by chef
[email protected]

The Nai Harn, Phuket

To prepare the lamb cutlet, place a frying pan on the stove and warm ready, season the lamb cutlets to taste with salt, pepper and the cumin...

Read more ...