Shak Release Brunch at Pullman Phuket Panwa Beach Resort
@ Pullman Phuket Panwa Beach Resort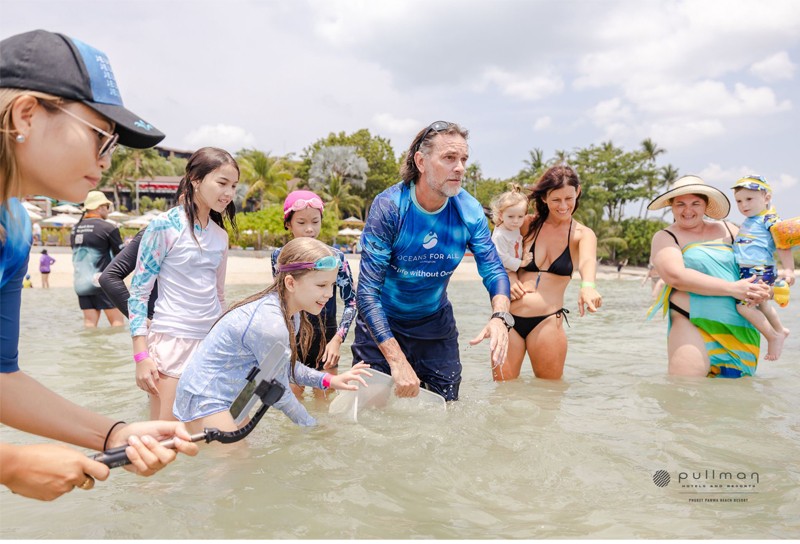 Pullman Phuket Panwa Beach Resort Hosts Successful Marine Conservation Event
PHUKET, April 2, 2023 – FOR IMMEDIATE RELEASE
Pullman Phuket Panwa Beach Resort in partnership with Oceans for All foundation hosted a successful Beach Brunch event to promote marine conservation and educate guests about the importance of protecting our oceans. The event was attended by VIPs, government officials, and members of the public, who all enjoyed a day of delicious food, exciting activities.
During the event, guests were treated to an educational presentation by OFA on the Bamboo shark and seagrass projects, as well as a guided marine walk led by marine expert David Martin. A highlight of the day was the Bamboo shark release, which was attended by well-known VIPs and government officials.
The Beach Brunch buffet featured a wide variety of food options, including a vegan corner, and special shark-themed desserts. Guests of all ages enjoyed beach games and activities, as well as a beach clean-up activity to help protect the local environment.
Vincent Delsol, General Manager of Pullman Phuket Panwa Beach Resort, said, "We are delighted with the success of this event and grateful to all our guests and partners who helped make it possible. This is a first step towards our ongoing efforts in marine life conservation, and we are committed to doing our part to protect our oceans. We look forward to hosting more events like this in the future."
The Beach Brunch event at Pullman Phuket Panwa Beach Resort was a great success and helped raise awareness about the importance of marine conservation. The resort remains committed to sustainable tourism and protecting the environment. For more information on the resort's bamboo shark conservation program and to arrange a visit to the shark tank, please contact Walid Bougrini [email protected]
Published: April 2023