Gems you won't find in guidebooks Phuket Indy Market
Indy Market (Laad Ploi Kong in Thai) is located on Limelight Avenue, along Dibuk Road in the heart of Phuket Town. Although relatively small, it has a unique vibe and is a favourite gathering spot for creative characters.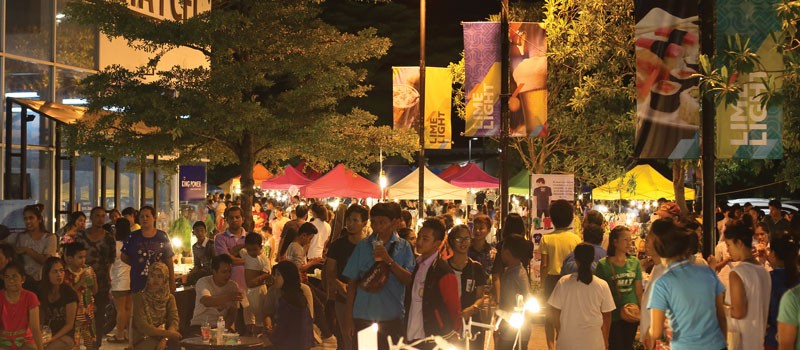 This lively market operates on Wednesdays, Thursdays and Fridays from 4:30pm till 10pm. It's very popular with locals, especially teenagers and young adults, as it features a stage with live music and performances in addition to food and shopping stalls.
Here, you'll find all kinds of handcrafted goods as well as reasonably priced clothing and accessories. It's a great place for unique gifts such as personalised handmade key chains, artistic handbags from Bangkok, a selection of appealing cacti and distinctive jewellery pieces, to mention just a few of the many items for sale.
At Phuket Indy Market you can also buy makeup, have your nails seen to, or even have your portrait done and, of course, you can enjoy a cool drink as you blend in with the feel-good crowd. The food options, too, are plentiful and tempting – Thai-style kebabs, spicy salads, deep-fried pork and giant crispy rotis (Thai pancakes), among other delicious snacks.
According to Khun Narong Promjitta, the market's manager, Indy Market's concept is 'Express Yourself'. Since 2010 when it opened, the management's aim has been to make it into more than just a marketplace. Having such a street was Mr. Narong's vision – to give Phuket's teenagers a place to express themselves creatively.
But it's not only Phuket's teenagers who get to express themselves at Indy Market; vendors are founts of creativity through their products, and visitors do the same with their colourful clothing and accessories at this oasis of freedom and open-mindedness.
During its first year, when the volume of guests was still manageable, the management was able to coordinate the style and theme for the following week and vendors would show up wearing a funny hat, for example.
As the market gained momentum, new ideas were introduced, but essentially the main theme hasn't changed and this is still a creative hub that embraces everyone looking to express their individuality.
The market's music podium is open to all and embraces musicians and entertainers alike; anyone who love to play music and perform. Often, high school bands play, seeking exposure outside their family and school circles. Some performers come from other provinces, and for many this is their very first chance to get honest feedback from a broader audience.
Additionally, every 1st December, on International AIDS Awareness Day, there's a music contest that's become well known over the years.
Welcoming young talent is something the management is proud of, especially as the first year's winner, Tanon Jumroen, went on to win the Thai version of the famous international show, The Voice.
Phuket Indy market has its 'official' charity as well, 'Phuket Dog'. To support the charity there's a stall with handmade T-shirts and trousers that have been designed by well-known Thai actors and pop singers. The clothes sell for 180 baht with 20 baht going to the charity.
The market is also a home to the second 'Coworking' space on the island (www.HATCHphuket.com). Coworking spaces are a growing global movement and they differ from the typical office environment by being available for rent by the hour, day, or month to help independent professionals and organisations.
These creative offices offer a place of synergy for those who otherwise work in isolation and can be a great platform for meeting other independent workers and frequent travellers who don't have fixed offices.
As the Indy Market approaches its fifth anniversary this September, the management continues to hone and improve the concept. They're determined to keep the stall rental prices low, keeping it accessible to all. The biggest upcoming changes include altering the layout and grouping goods according to their types: there'll be sections for handmade arts and crafts, fashion, accessories, beauty services, food and much more.
Whether you've never visited this little gem, or you're already a regular, make sure you head to Limelight Avenue on a Wednesday, Thursday or Friday afternoon and evening at least once in a while. Come alone or bring along your family and friends – either way, you're bound to leave richer in spirit because of this unique Phuket experience.