Beetroot & Goats Cheese Salad
For the beetroot
1 Whole beetroot
2 Leaves of Chinese Cabbage
60g Daikon with skin on (round cut)
2 Slices of ginger with skin on
2 Liters of the water
3 Sprigs of thyme
2 Bay leaves
30ml Red wine
Boil 1 liter of water, add all ingredients except wine. Once the first liter reduced by half, add another half liter of boiling water and simmer.
Repeat the process with remaining water, then add red wine, simmer on low heat till beetroot is soft.
Peel the beetroot, cut round using a ring cutter, dice the rest into small cubes.
For the puree
1 whole yellow capsicum (only 35g)
1 whole red capsicum (only 35g)
50g Cooked beetroot
20ml Olive oil
Char grill the capsicum until it gets dark around surface, removed flesh from both capsicum.
Blend together with cooked beetroot, add olive oil and season.
For the salad
10g Goats cheese
10g Walnuts
80g Cooked beetroot
20g Roasted capsicum
5ml Apple cider vinegar
15ml Olive oil
5g Sliced celery
Thinly sliced Baby radish and combine all ingredients, toss in the dressing and combine on a plate by filling up the beetroot ring you made earlier.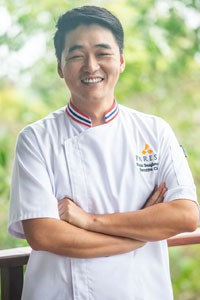 About Chef Franko
Originally from South Korea, Chef Franko began is culinary career in the restaurants of Paris France. Travelling there alone at the age of 17 to pursue his culinary passion he studied for a Le Cordon Bleu Diploma in French Patisserie. Whilst there he developed his skills in a number of restaurants culminating at the highly prestigious Hotel Plaza Athenee Royal Palace Hotel in the kitchen of three-star Michelin chef Allan Ducasse, and under the tutelage of world champion pastry chef, Christophe Michalak.
He will oversee the entire culinary team of Paresa Resort from its signature Thai restaurant, 'Talung Thai', which serves authentic Southern Thai cuisine using fresh local produce to 'Diavolo', Paresa's Mediterranean style restaurant, where a generous à la carte breakfast and tempting European delicacies are served throughout the day, in a spectacular setting over the Andaman Sea.